Truck loaders
Continual development of mail & isolated loads directly on trucks is also a wide field of machines provided by BOUBIELA MORET.
These shipments of various packages (boxes, bags, tires,….) using road transport requires a specifically designed truck loader.
Ideal on your shipping docks or logistic platforms, we have developed an economic range of products while keeping the level of quality that have made our reputation.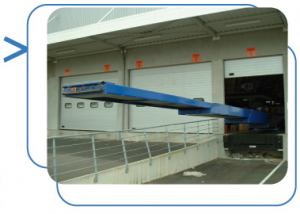 Benefits :
Device that can be linked directly to your production lines
Loading is easy, in minimum time
The operator puts packages to the right place
Optimal filling volume of truck (lifting ability)
Possible use on multiple platforms (no loss time between 2 trucks).
Truck loaders :
Loading is performed by a 12 meters stroke telescopic loader. The operator has the full control of the movements of the machine.
This machine is reversible and can therefore be used in unloading purpose.
Multiple facilities and options exist such as:
Lifting machine.
Metallic dock.
Powered transfer.
"Free" wheeled mobile machine.
Additional belt conveyors.
Barcode reading…
Product data sheet :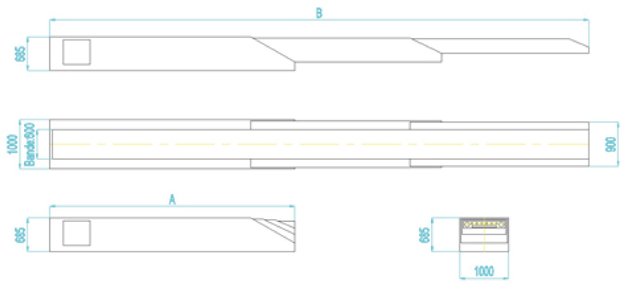 Standard Machine :
| | | | |
| --- | --- | --- | --- |
| Machine type | Race | A | B |
| LF 3T12 | 12 m | 6 000 | 18 000 |
| LF 3T9 | 9,5 m | 5 000 | 14 500 |
| LF 2T6 | 6 m | 4 500 | 10 500 |
Options :
| | |
| --- | --- |
| REF | DESCRIPTION |
| RM | Structure (use without dock) |
| QM | Operator platform (use without docki) |
| TD | Unloader belt conveyor / heavy loads |
| TA | Articulated and retractable additional belt conveyor |
| TR | Articulated and retractable additional belt conveyor (unload) |
| RR | Trolley for transfer / motorized (on rails) |
| RG | Floor rails + festooning cable / power |
| RH | Lifting machine with hydraulic jack |
| MR | Mobile machine on wheels |